Alpha 2.0 Red Batting Gloves
Regular price

Sale price

$45.99 USD

Unit price

per
Alpha 2.0 Red Batting Gloves with Pro-Style Benefits:
Same Pro-Style Leather used on our Select and Alpha Batting Gloves

Designed and Test by Owner, RJ Vukovich during his professional baseball career!
Sublimated, "stretchy" dri-fit on the back of the hand to allow maximum stretching/flexibility during use. This also will help relieve stress on all seams of the glove! Great air flow for your hands to keep cool !
Safety pad on the back of the hand for extra protection from objects during play!
Durable, light, leather is used on the palm side of the batting glove for lasting performance during training and season!
The Alpha 2.0 Red Batting Gloves provide any hitter with the best slip resistant properties in the game by adding its grip technology to the palms of its gloves.
Thousands of gripping fingers offer the ability to grip lighter and hold tighter, even in wet and oily conditions.
Palms Grips (Durability Pads): used to Increase Friction, but will Provide Palm Protection that occurs during the Swing!

Instead of the leather palms taking abuse from the swing like every alternative glove, our gloves will be protected by our grips! The grips will breakdown before the leather protecting it!
Rate of wear will depend on the hitter! But, each hitter will get to see our durability technology live and in action!

Finger Grips (Performance Pads): we were taught as kids to get the bat out into our fingers. Our finger grips will grab onto the bat and allow the hitter to gain optimum grip from increased relaxation!

These finger grips will not show the same signs as wear and will last longer as those are gripping onto the bat!

Utilize gloves in combination with VukGripz Baseball Batting Grips which are designed to wrap onto baseball and softball bats.
Updated neoprene wrist and rubber strap for extreme comfort and fit.

Pro-Style Specs:
These 2.0 Red Batting Gloves feature strong leather with our American Made grip material sewn into the palm and fingers of the glove. Alpha 2.0 Red Batting Gloves are available in a variety of sizes!
These 2.0 Red Batting Gloves are our Pro-Style leather, look and feel! Lightweight, but with stronger leather than alternatives! 

Alpha 2.0 Red Batting Gloves offer slip resistant, vibration dampening, and easy release properties.

Thousands of gripping fingers offer the ability to "Grip Lighter and Hold Tighter"
These gloves will outperform any alternative in wet, moist, cold, muddy and oily conditions.

Wash by hand. Air dry away from heat.
Utilize gloves in combination with VukGripz Baseball Bat Grips which are designed to wrap onto baseball and softball bats.
Alpha 2.0 Red Batting Gloves PERFORMANCE Specs:
Up to 4.4% more bat speed when used directly with a VukGripz Grip

Great friction allows you to gain relaxation in your muscles which will increase your fluidity in your body! That gained fluidity from the increased flexibility and range of motion will create more bat whip naturally!
This will also increase your bat path consistency as well!

270% increase in friction/grip when used as a system with a VukGripz Grip in wet, cold and moist conditions vs a traditional bat grip and batting glove system
43% increase in friction/grip in dry conditions
Proven to increase bat speed and exit velocity more than any alternative according to MLB Statcast! 
DURABILITY Specs:
The 2.0 Red Batting Gloves offer great durability for baseball and softball players. These gloves contain a large amount of leather compared to most gloves. By increasing the amount of leather in the Alpha 2.0 Red Batting Gloves, athletes are able to gain greater protection and longer lasting batting gloves. On top of that, these Red batting gloves offer a sublimated, "stretchy" cloth to the back of the hand and on the backs of the fingers to help with the batting glove flexing during swinging, sliding, and stretching.
Not only that, these gloves are provided with VukGripz material sewn directly onto the palms of the gloves. The heavy stitching and strong leather makes these red batting gloves a contender in the market. The VukGripz material is used to increase the friction between the red batting gloves and the bat. Greater friction helps eliminate slip. By eliminating slip, athletes will not lose energy during their swing. No loss of energy will turn into increased bat speed. When paired with the VukGripz Batting Tape, this VukGripz system will provide the greatest amount of consistent grip on the market compared to any bat grip and red batting gloves.
Share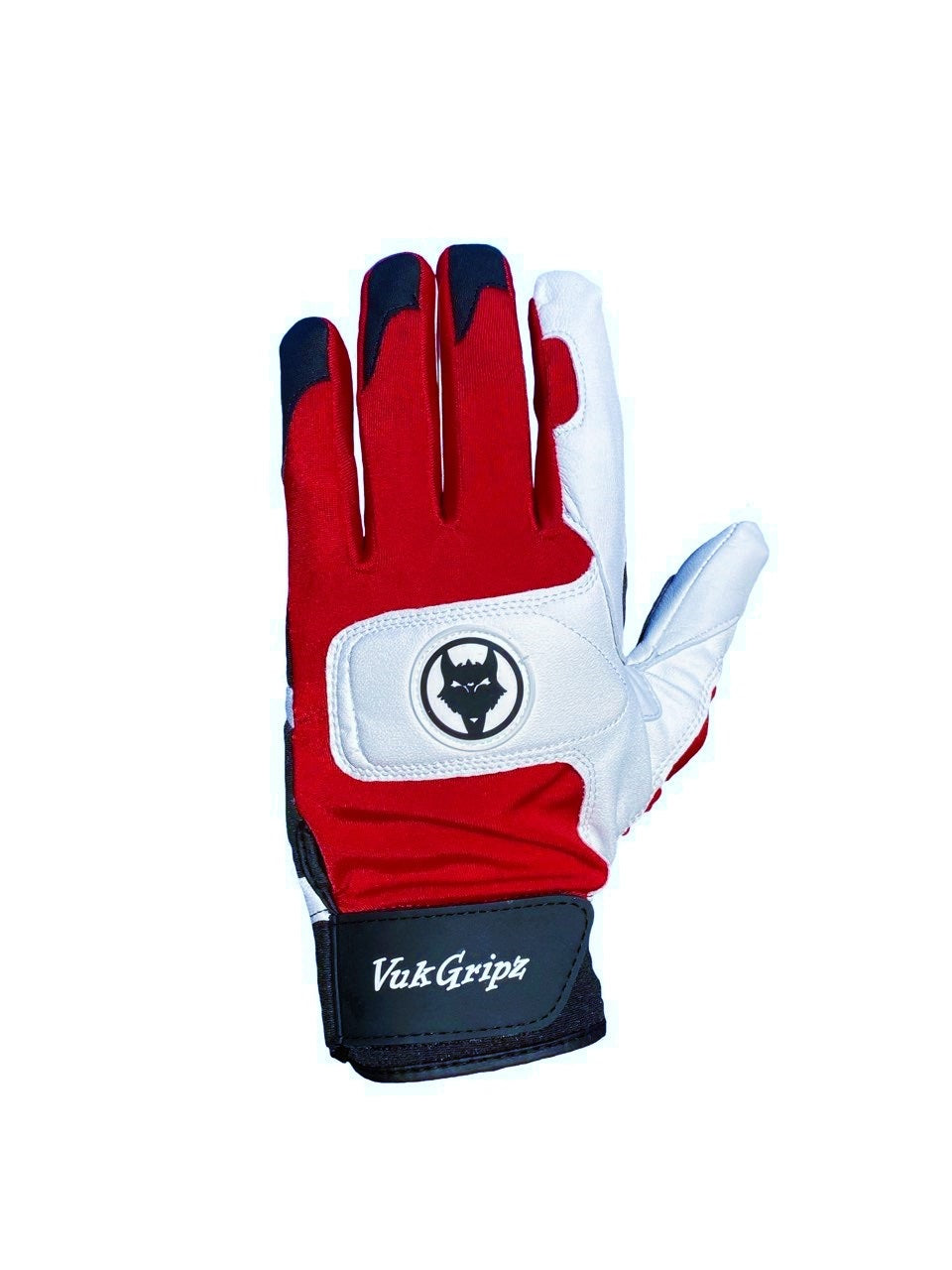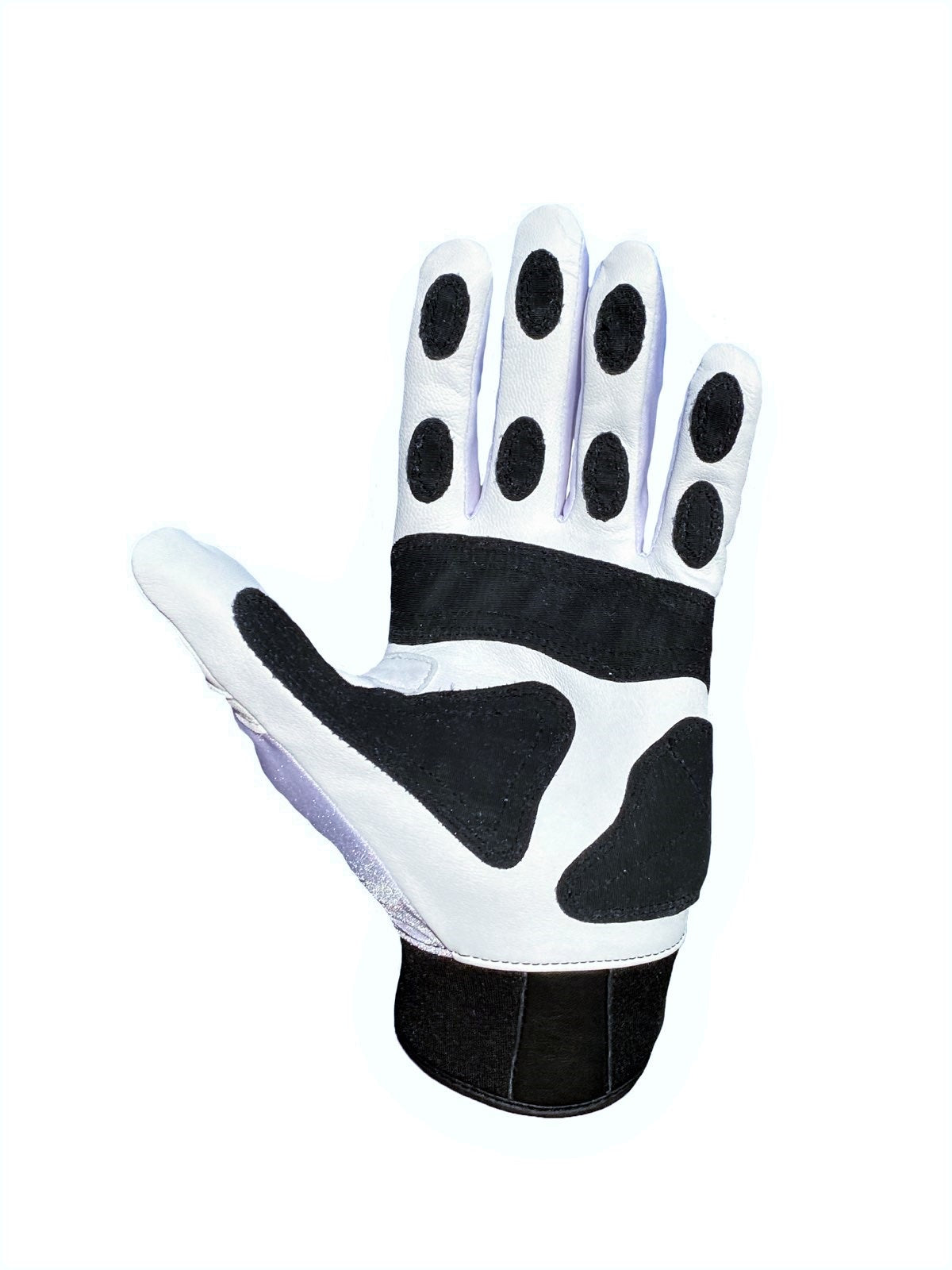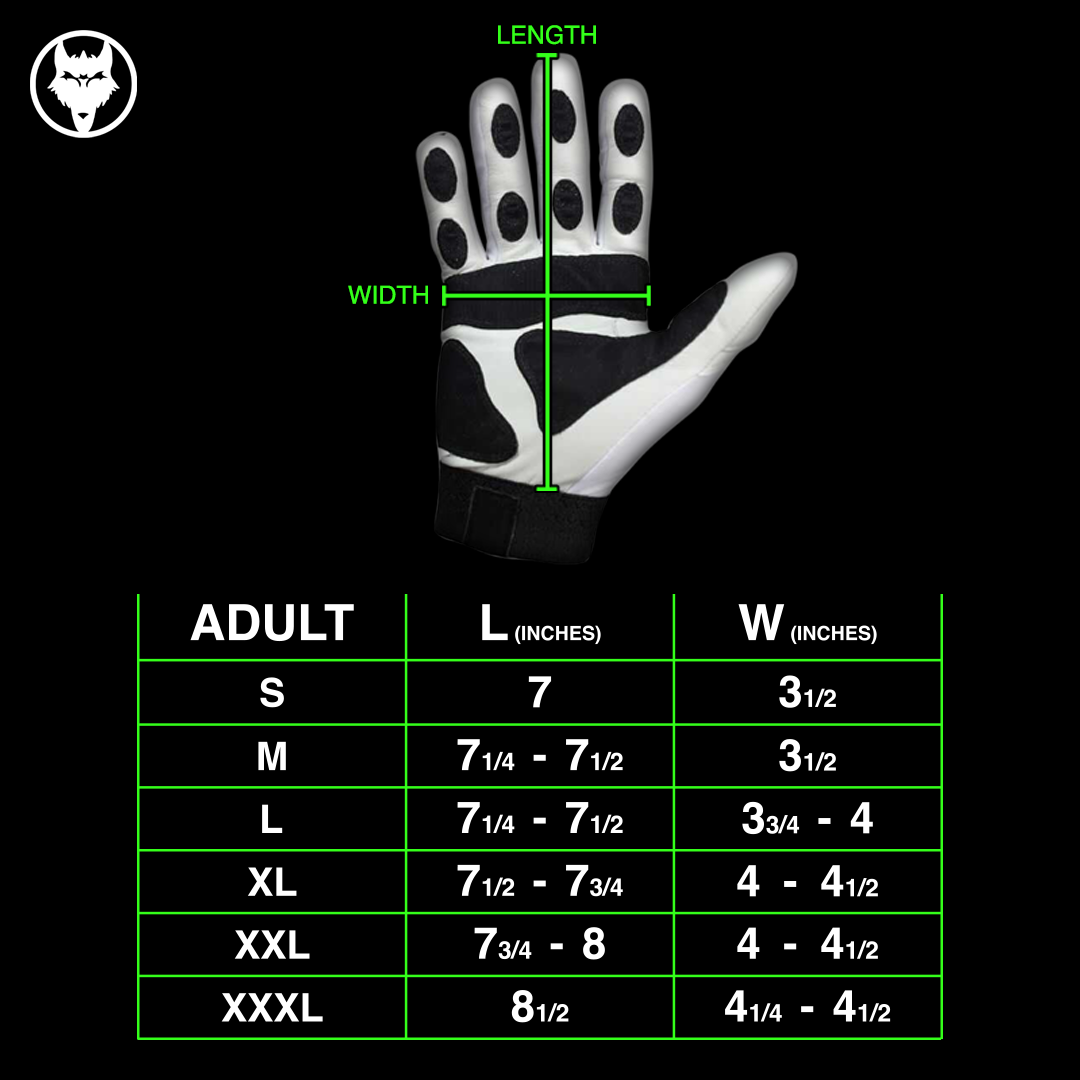 Great grips bad batting gloves
The material on the black part of the gloves rips off on second day of swinging the bat after 100 reps plus. And the wrist strap is not tight enough around the wrist to keep the glove snug for minimal movement.
Great
I am 16 years old. I have been playing since I was 6.
This is the best batting glove I have used. I also have the bat tape that goes with it. The two together provide the best grip I have ever had. These gloves along with the Bat tape are awesome.
Thank you
Kids love them
14 year old Daughter and 9 year old son love the batting gloves! The padding on the gloves helps reduce sting on hitting.
Really cool, potentially got a bad pair
I feel like I have a pretty unique story here. I am trying to set an exit velocity world record (technically already have it) I am trying to hit a baseball 130mph and am currently at 125mph. I'm trying to find any possible way to increase velocity so I tried out a pair of your batting gloves and bat grip. I really like the unique feel they have and have noticed a slight increase in average velocity using them.
Unfortunately the 2nd swing I took with the batting gloves on the crease between the pinky and ring finger ripped creating a 2 inch hole. Also after roughly 200 swings there is some noticeable wear on the palm of the bottom hand glove.
Overall though I really like the gloves and will continue to use them as they are unlike any pair I have ever used. I play for the savannah bananas pro team, would love if there was a yellow option for gloves!
Work great, less durable than I had hoped
I pair these batting gloves with the Vukgrip grip tape on the bat as well, and I can confidently say that I've never had as strong and as comfortable of a grip on a bat as I have had with this combo. The downside is, I hit a double last weekend(2nd tournament using them) that I had to head-first slide into 2nd on, and the gloves didn't hold up very well. Most of the little grippers ripped off, and several of the stitchings around the pads on the glove are fraying. I fully intend to rock with em until they don't work anymore, I had just hope for a bit more durability out of them.