Purple Pickleball Grip
Regular price

Sale price

$14.99 USD

Unit price

per
Can a Purple Pickleball Grip be Different than the Others?
100%! Vuk developed the best pickleball grip with the nicest purple there is! No more top, layer coatings that only work when your hand is dry! The first hot day you play will cause your hand to get all sweaty! Sweat is a barrier between your hand and the pickleball paddle. So, with our technology, these products can be soaking wet, drenched with sweat, caked in mud or dabbed with sunscreen, and, will not lose its friction! That is right! The magic words are Premium Friction! Sticky and tacky products are so 1990s! Get with the times!
Does this Product Absorb Moisture (aka: sweat, water, rain)?
Great question! And, the answer is not a chance! Our plastic based purple pickleball grip tape is "water-wicking!" In simpler terms, it does not absorb moisture! This is important because unlike other paddle grips or overgrips, leather isn't used within this product! When leather properties get wet, those get heavy and slick. Don't ever add weight to your expensive, lightweight pickleball paddles! You spent a fortune that! Give yourself piece of mind by adding American Made paddle tape! Ours is extremely light and can be used directly on the handle, or used over top of what you have! And, you can wrap ours with an overlap to provide texture! Or, simply wrap it edge to edge for a smooth, consistent grip! This is sport is all about having outstanding, pickleball grip pressure! That falls in our philosophy of Grip Lighter - Hold Tighter!
Is it Hard to Apply these to My Paddle?
We make it easy! Everything you know about how to grip a pickleball paddle is simplified with Vuk! No more stretching or pulling tight! No more wrapping your paddle for a lefty or a righty! Simply use your thumbs when laying the grip on the handle and apply slight tension, so it lays flat! Be sure to remove the liner as you go! Do not take off all the backing at once, or you will expose the power of the best pickleball paddle grip! Our adhesive is the strongest adhesive used on any, similar product! Don't be fooled with alternatives telling you otherwise! Once you take the leap of faith and buy some grip tape, take it out of the packaging and turn it over to reveal the strongest adhesive used on any grip! Why is it the strongest? Because, it is Made in the USA!
Share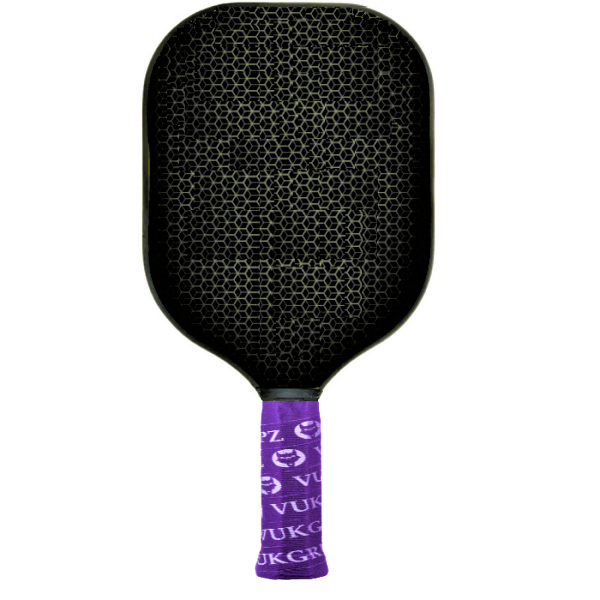 Good grip
I play pickle ball in Florida and as you know, it is very hot. With all the heat my hands sweat a lot and the grips have helped me keep on to the paddle. Love it.