Prowler Pink Batting Gloves
Regular price

Sale price

$44.99 USD

Unit price

per
Why are the Prowler Pink Batting Gloves Different?
VukGripz developed award-winning, Prowler Pink Batting Gloves that has changed the way players grip their bat! Our American Made gripping power on the palms gives players the ability to "Grip Lighter - Holder Tighter" more with our technology! 
Palms Grips (Durability Pads): used to Increase Friction, but will Provide Palm Protection that occurs during the Swing!

Instead of the leather palms taking abuse from the swing like every alternative glove, our gloves will be protected by our grips! The grips will breakdown before the leather protecting it!
Rate of wear will depend on the hitter! But, each hitter will get to see our durability technology live and in action!

Finger Grips (Performance Pads): we were taught as kids to get the bat out into our fingers. Our finger grips will grab onto the bat and allow the hitter to gain optimum grip from increased relaxation!

These finger grips will not show the same signs as wear and will last longer as those are gripping onto the bat!
How can these Prowler Pink Batting Gloves increase my Exit Velocity?
The philosophy behind our Prowler Pink Batting Gloves is our technology on the palm! We are the first company to focus on Grippy, instead of stick, tacky coatings that enhance grip. Those sticky coatings are only on the top layer of alternative, pink batting gloves. After short use, that coating gets worn out and loses its enhancement. With VUK, our Grippy is built into the entire pad. So, after extended use, players will still get to benefit from the gripping power of our white batting gloves! Because of the enhanced gripping power of VukGripz, players will be able to get the bat further out in their fingers! But, they will be able to "Grip Lighter - Hold Tighter," which increases a player's relaxation in their muscles! Increased relaxation will give players more flexibility and range of motion! Both of those will help players gain natural whip and control! Both of those factors are exit velocity!
Sizing:
Sizing our Prowler Pink Batting Gloves is easy with our sizing chart! With our heavy-duty leather and strong stitching, our gloves are made snug. So, bumping up to the next size isn't a big jump! Be sure to measure from the tip of your middle finger down to where your hand meets the wrist! We take it a step further and have you measure the width as well (cross the hand)! Although we use the same leather as our Howler Batting Gloves, the Howler model uses a stretchy backing on the entire back of hand. Whereas, the these Pink Batting Gloves have leather on the back of hand. 
Pink Leather with Pink and White Features is straight fire!
Share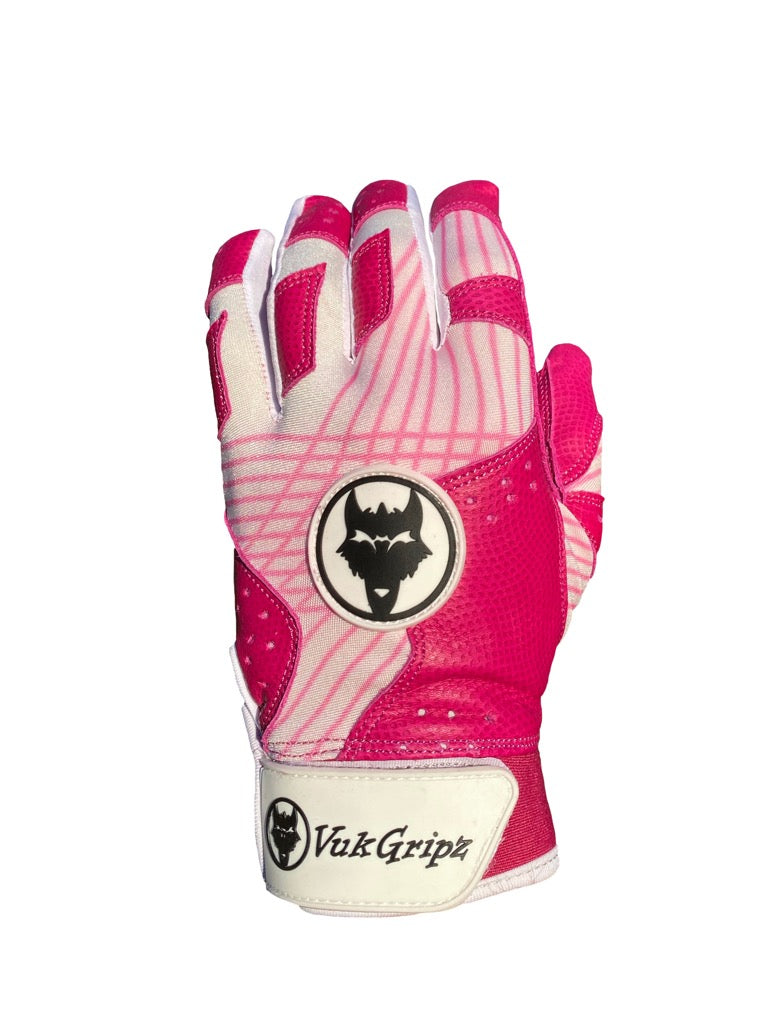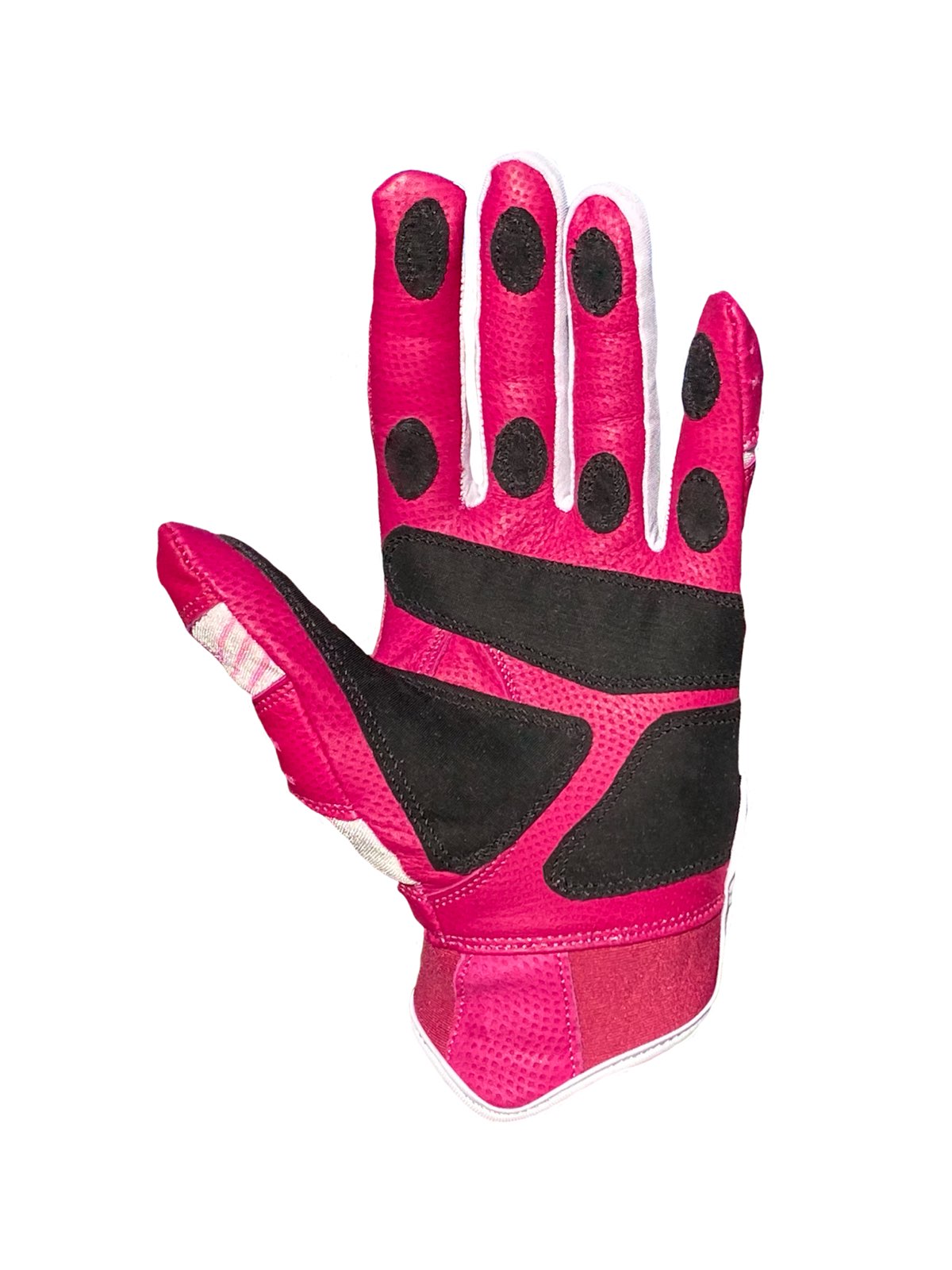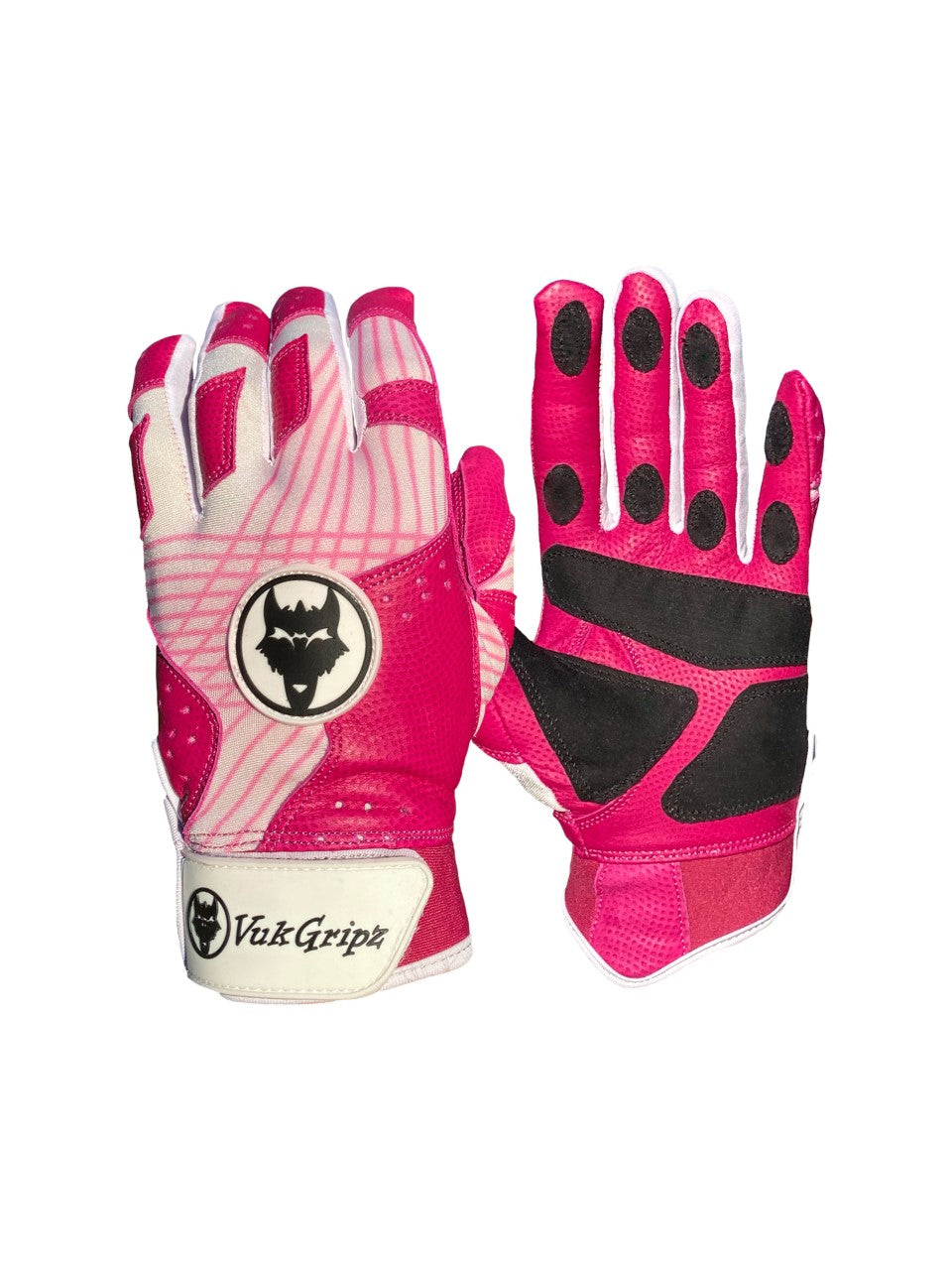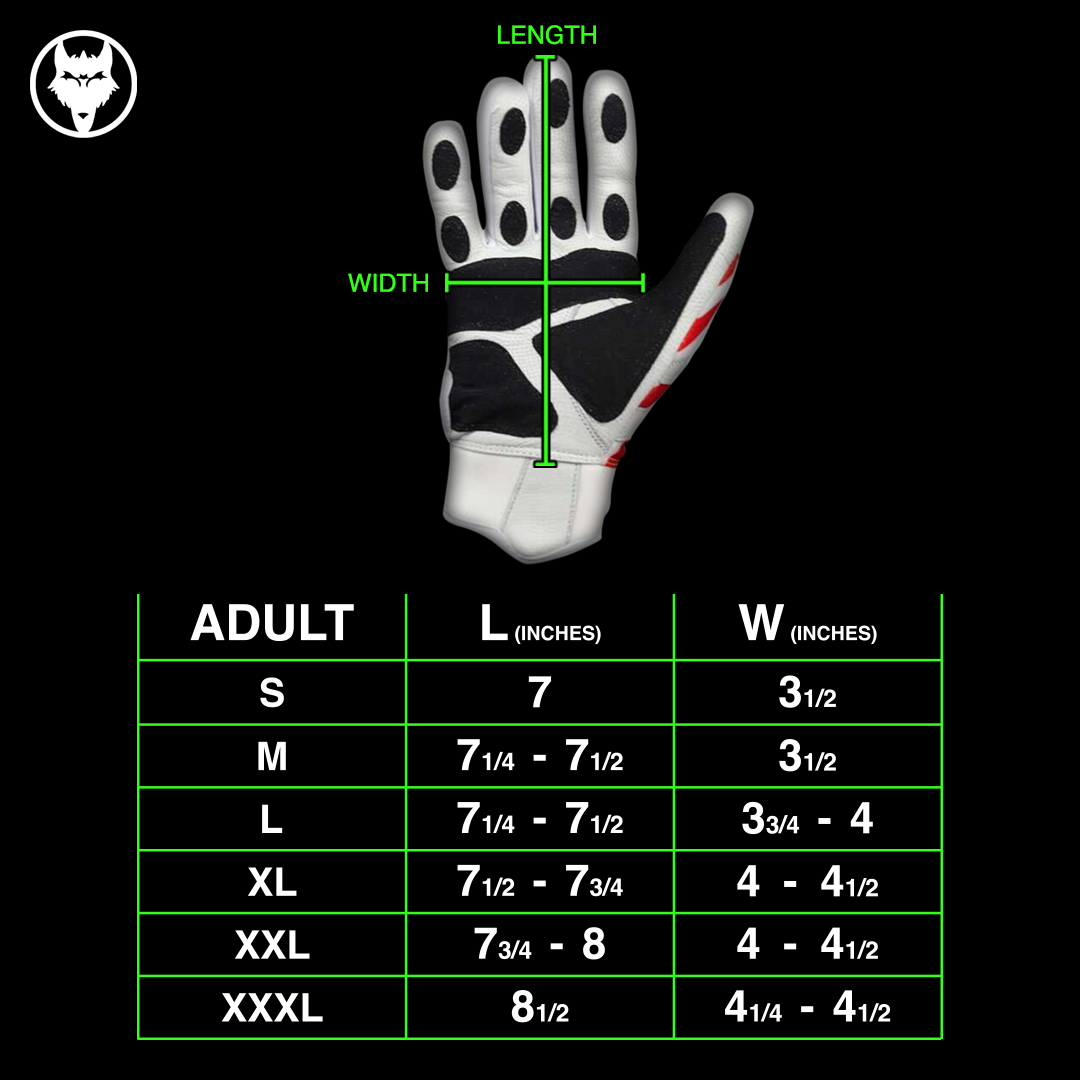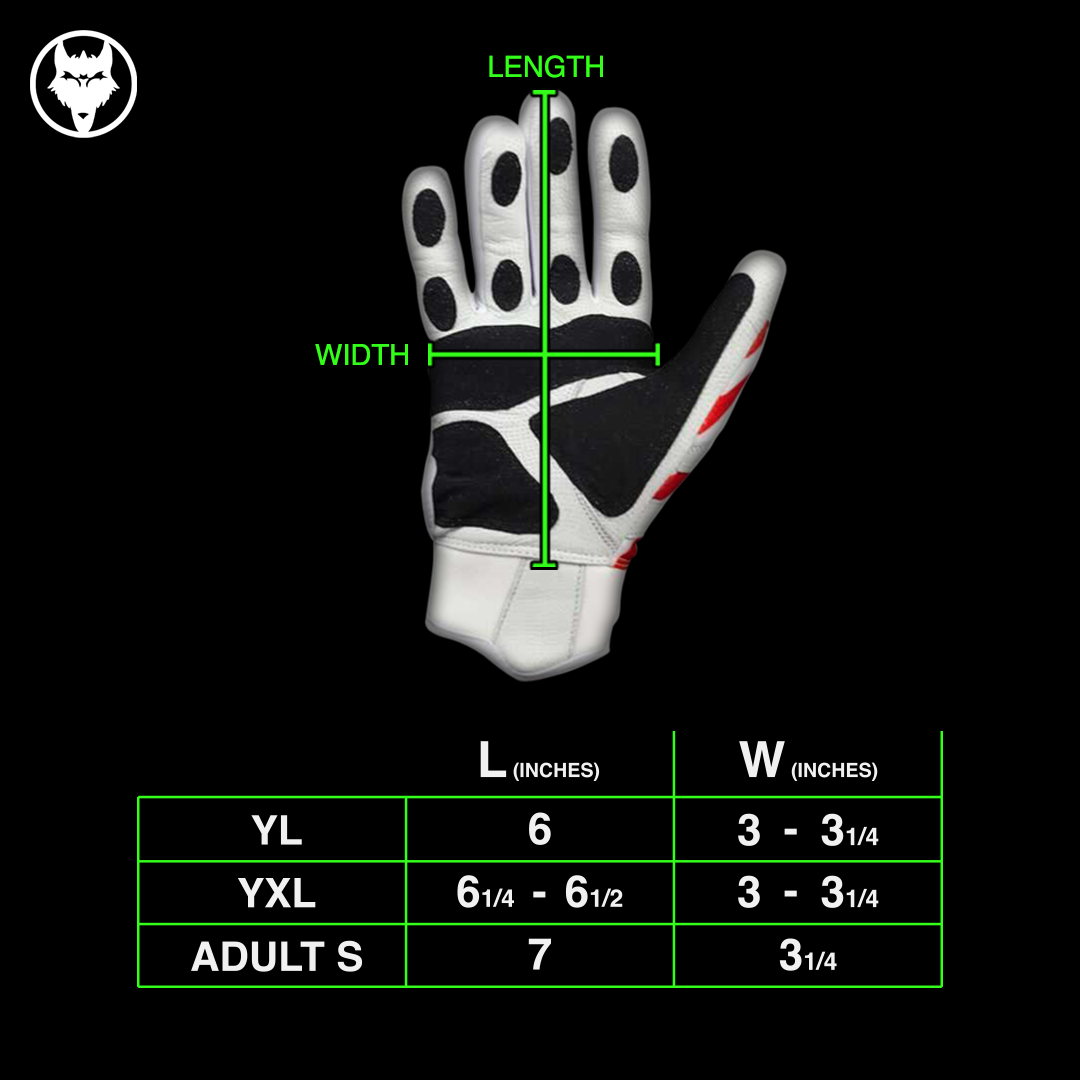 Love VukGripz Batting Gloves
I have used your batting gloves for the last few years. I love them!! I also use your bat grips. The only issue I have with the pink ones is that my left hand is completely stained pink after wearing them. I play double headers for league and wear the left one from start to finish under my mitt. But it washes off when I'm in the shower. Amy
Nice Gloves
I have been purchasing Vukgripz for quite sometime now and I have to say that those grips and gloves are legit :) the pink gloves are dope as well even though They're out of the XL Pink bat grips at the moment, I believe that Vukgripz is where it's at.
Nice stock
Nice batting glove, perfect to hitting on rain day.