Dig In Bat Grip Tape: Believe In Yourself
Regular price

Sale price

$14.99 USD

Unit price

per
Why is the Dig In Bat Grip Tape: Believe In Yourself groundbreaking?
Taking a simple idea and making it into a reality is what VukGripz is all about with this Believe Bat Grip Tape! This is the first collection of products that focus not only your performance, but also giving players a mental boost! The idea of hitting a baseball or hitting a softball sounds easy. Take this bat and hit that ball! Well, hitting a ball that moves is difficult. So, why would any player ever step into the batter's box not using the best bat grip tape or best batting tape and being mentally into it? That question has stumped us for years! We are introducing the world's first Dig In Bat Grip Tape! Or, it can be considered a Dig In Batting Grip! It is designed with our Premium Friction and designed with Inspirational sayings like Believe In Yourself! Because, if you can't do that, you will not succeed. 
Why can this philosophy do for a hitter?
Believing In Yourself is the number one down fall for many players. We doubt our self so much. In a game where failing 7 out of 10 times means you are really good, there is little room for doubt. The difference in succeeding 3 out of 10 times compared to 2 out of 10 is a Hall of Fame career. So, we want to make sure players stay positive and full of confidence as much as possible. Even if things are not going your way, being able to understand your failure and adjust will go a long way for any ball player's career! Allow our Dig In Bat Grip Tape and Dig In Decal give you a spot to focus on in between pitches!
What is the Mindset of a Baseball Player or Softball Player in the Batter's Box?
TRUST! FOCUS! DETERMINED!
As a player, I searched for that extra inspiration to help me battle when the pressure was on and to not feel beat! So, there are moments when you have to DIG IN™ and get the job done! Every athlete goes through this! I wanted to create a line of products that assist you every second you are battling in the batter's box! Products that not only give you OPTIMUM GRIP, but products that give you OPTIMUM CONFIDENCE to achieve OPTIMUM PERFORMANCE! The Dig In Bat Grip is gives you inspiration when the pressure is on and it is late in the game! Also, we include a Dig In™ Decal for you to put anywhere on your bat for you use as CONFIDENCE BOOSTER before the next pitch! Up until this point, there has not been a replica Dig In Bat Tape ever created! #vukdup
Take a look at MLB Player, Eric Sogard, on YouTube using our newest, and more ingenious bat wrap on the market by clicking here!
Are there tricks on how to wrap a bat?
We make it easy to wrap a bat! Check out our entire collections of videos on YouTube or our How To Wrap a Bat page!
Share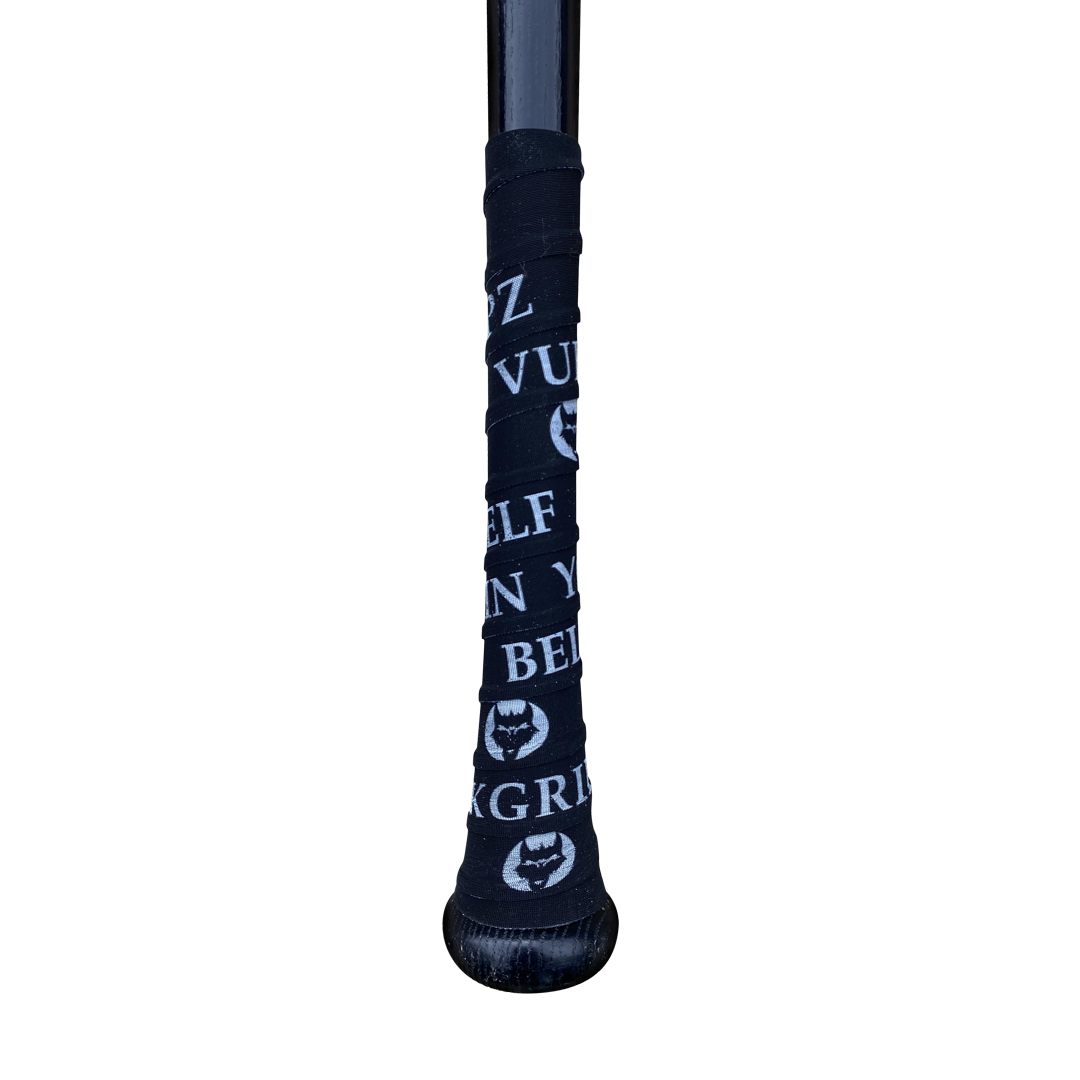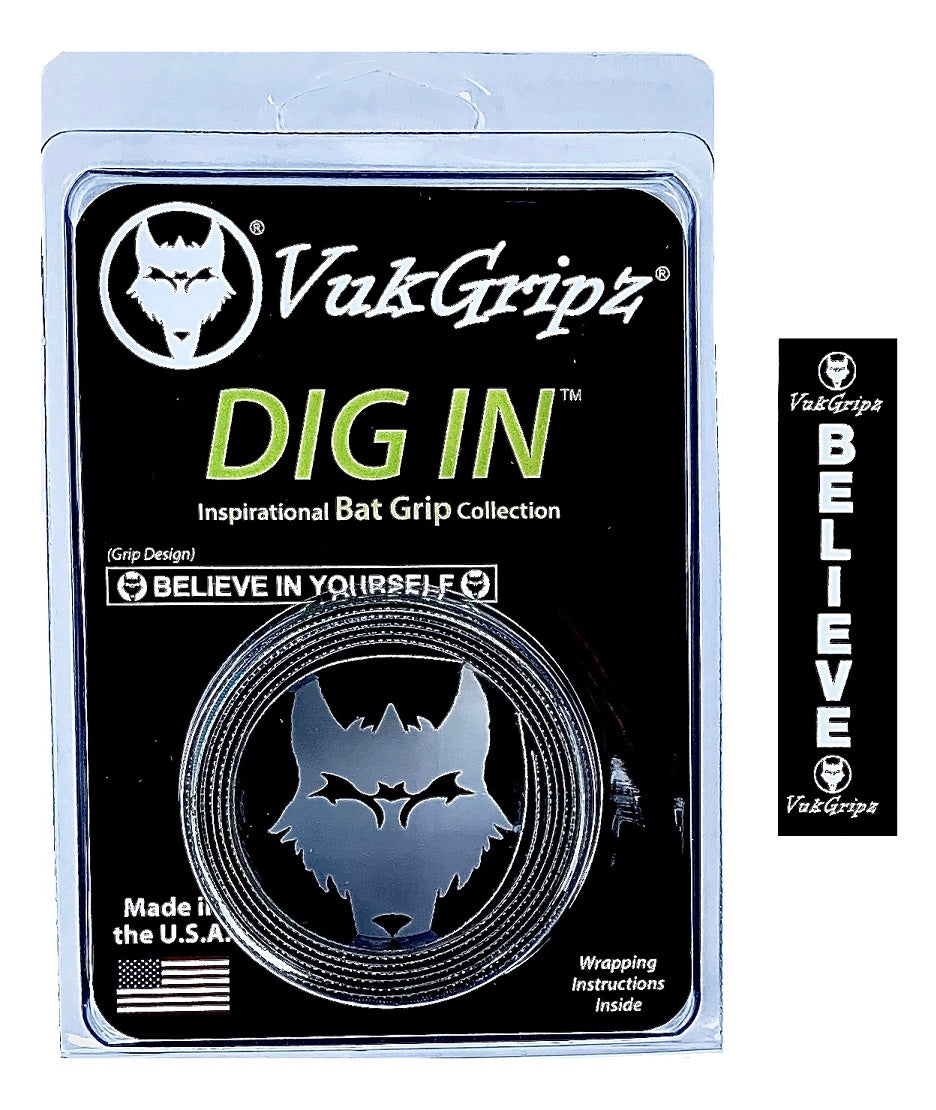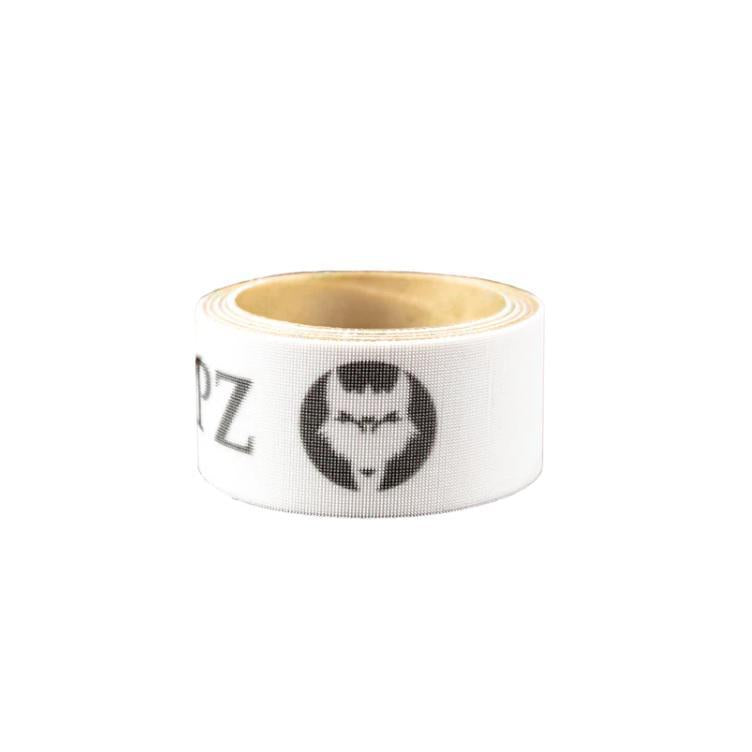 Great
The best grip tape. I have used many different kinds but this is by far the best.
Best Bat Grips Hands Down
They took a bit longer to install than the grips that you've used in the past, but not really that bad. They were thin enough that I was able to install them over the factory grips that came with my daughter's Fastpitch Softball bats. We purchased the batters gloves as well. No worries at all about that bat slipping out of her grip. They say that you can loosen the grip on the bat and that can increase bat speed. I haven't been able to confirm this yet, but I'll measure bat speed with and without and try to update my review afterwards. So far we're very happy with our purchase.
Only bat grips I use
Vukgripz are the only baseball bat grips I use on any of my bats, I have re-wrapped every bat that own (about 10+ bats, don't ask) I love the fact that I don't need to use any substance for more grip. I have even been able to reuse to grips after I broke the bats which helped to save some money. I decided to go with these to give me some extra focus in the box. Get some, you won't be disappointed a